I have been a DC Comics fangirl for thirty years, and I've never been embarrassed by that until now.
Last Saturday was Free Comic Book Day across the U.S. FCBD is traditionally when comics companies, large and small, offer free issues which are designed to entice the reader into buying more of their product (thus benefiting the comic book store) and drawing in new readers. Usually a lot of the offerings are tuned into the latest successes of the properties in other media – there were plenty of Avengers stories for the taking last year, for example.
That's where DC dropped the ball.
There are a ton of DC properties enjoying financial success right now. Man Of Steel, god help me, raked in over $650 million worldwide at the box office. Arrow pulled in 2.25 million viewers on April 30th. DC Entertainment has already signed Zac Snyder on to make a Justice League movie, and the shows Gotham and The Flash are already in development for the CW.
Now lemme throw out some comic book sales figures for you.
The #1 selling book for March 2014 was Batman, with roughly 116,000 sales. At the very bottom was something called Zombie Tramp, with 940. Okay, clearly Batman is DC's bread and butter. The success of the Christopher Nolan movies corroborates this, at any rate, as does the CW picking up Gotham. So, let's say you're DC's Marketing Department. You'd think you'd want to strike while the iron is hot and offer something designed to pull in those millions of people who ordinarily don't read comics, but love Batman. Or Superman. Or Green Arrow. Or, hell, do something with the Flash. Start the hype machine rolling for the TV show. The point is you want something accessible to new readers that builds on the success of the licensed properties.
Instead, we got Future's End.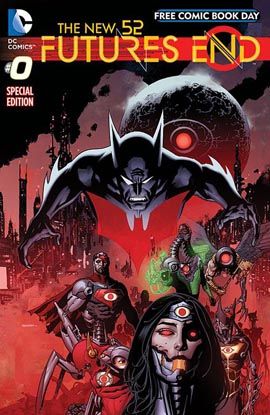 Looks promising, doesn't it? You've got Terry McGinnis, star of Batman Beyond, dominating the cover. You remember Batman Beyond. Fun show set in the future, aimed at kids. Okay, so we've got Terry annnnnnnnnd DEAR GOD WHAT ARE THOSE THINGS.
Did I say promising? I meant the other thing.
The new or casual reader, the target audience on FCBD, looks at that cover and at best goes "Whoa, why are they all machines? Lemme read this thing." So New Reader opens the book to see "CENTRAL CITY, 35 YEARS FROM NOW" so already we've got Dystopian Future, which only has emotional resonance if one is familiar with the state of the DCU at present. We also see an older Flash working with one of his rogues, Captain Cold, WHICH AGAIN HAS NO EMOTIONAL RESONANCE WITHOUT A FAMILIARITY WITH CURRENT CONTINUITY I'm okay, I'm breathing – and after that, who's the first superhero we see?
Hey, it's Wonder Woman, who's too damn "tricky" for a movie despite being really easy to pitch, with half her body gone and replaced with a cyber-spider-monster. She has SWORDS FOR HANDS, YOU GUYS, WHOAAAAnnnnnd immediately swords one guy to death and then lops off Captain Cold's hands before the Flash beats her to death at super-speed. Charming.
But hey, wait! We're not done doing grotesque things to our superheroines! And yes, do note, that in the first four pages of this things, it's the heroines we're seeing subjected to body horror first. Flash then runs into Frankenstein's Monster, who gives him a "join or die" ultimatum. Upon the expected response, the Monster opens his shirt to reveal WHAT THE ACTUAL LIVING BLUE FUCK IT'S BLACK CANARY'S FACE SEWN INTO HIS CHEST.
This is the first four pages. This was available online to preview to hype the book. Later on, every iconic DC hero is either brutally slaughtered or assimilated, including – oh, and let me tell you how tasteful this was – Barbara Gordon as Batgirl with her legs cut off and her torso welded into the Bat-Signal. Wow. Wow, DC.
Oh, and they kill Batman. After Batman orders Terry McGinnis to go back in time to straight-up murder the dude who put the DCU on the path to this future. They cut off Batman's arm, too. Good times.
If you follow me on Twitter, I've been pissed off about this for a little over three days straight. Because this is insulting. It's insulting to me as a long-term reader who enjoys superheroes doing heroic things, and it's insulting to me as someone who was raised by a salesman and has even the slightest grasp of marketing and target audiences. DC, you have a built-in audience of millions. Every single person watching your movies or your TV shows is a potential reader.
Who the fuck are you aiming Future's End at?
The kicker for me came last night when the official DC Comics twitter linked a review of Future's End by Complex Magazine. They did this without accreditation in the tweet, so initially I thought it came from DC themselves (which, way to read a URL, Dayna). Although it wasn't an internal DC review, it was still presented in such a way that denoted full support of the views contained therein, so I'm not letting them off the hook entirely.
The sentence that galled me was "If you like your heroes to be snarky, smiling do-gooders, Futures End probably isn't for you." Oh, you mean the "smiling do-gooders" that are raking in billions upon billions of dollars for Marvel Entertainment? Those guys? I'm sorry, it doesn't look like my taste in superhero is antiquated. Remember, no one at DC wrote this, but they sure as shit endorsed it. So what does that say to me?
"You're old. You're out of date. Our comics aren't for you anymore." Well, I'm a woman, so I expected that attitude already, what with you making all the Amazons of Themiscyra rapists and not doing a Wonder Woman movie and ripping off Black Canary's face and all. But I didn't expect it to be in stark black-and-white like that. I didn't expect that DC would forget the word "hero" in "superhero." It's not just that they forgot it, but that they are actively decrying it. Superheroics are a thing of the past. This is for mature readers who are into blood and guts and rape and death and mutilation, WOOOOOO!
Fuck that attitude.
I've gotten into discussions about DC vs. Marvel with friends, and I've always said I like the DC heroes more because they are someone you can aspire to be like. Role models as heroes. Marvel heroes are generally those you can relate to as a person like yourself and identify with their struggles. These are generalizations, of course, but I have to say, Marvel's getting it right lately. They're certainly accepting of a diverse audience, and expanding their titles to bring in that audience. The new Ms. Marvel is Muslim. Ultimate Spider-Man Miles Morales is half-black, half-Hispanic. The adjectiveless X-Men title at the moment is comprised of only women. And all these titles are hits. People, by and large, in all fiction and not just comics, want representation. They want heroes they can see themselves in. That's working on Marvel's end, really really well.
DC's taking their heroes and ripping them apart. Literally. There's no attempt to connect with the reader on an emotional level and that's what pisses me off. What's worse, it sells like hotcakes. People buy this shit. They see that dark sells (see also: Man Of Steel), so they push dark. The Joker cuts off his face, so mutilation sells. You've got the game Injustice: Gods Among Us, so violence sells. It's fucking making them tons of money, but it's taking away the heart of DC. The inspiration, the heroism. The part of the universe that hooked me as a child of four and kept me reading my entire life. Their target audience is the teenaged/young adult male who loves gore and mutilation and murder, the same audience who somehow thinks it's okay to send rape threats to someone who criticized a fucking comic book cover for being shitty. They are actively targeting the audience who are acting like total fucking assholes. And it's selling.
That's the worst part. It's selling. And all it cost was their soul.